Merchandise
Do you collect any Tintin Merchandise? How do you feel about it in General? Do you think they are taking it too far? I mean, you can pretty much find anything with Tintin's pictures or logo on it these days.

one of my keychains
I think I read somewhere that Herge himself wasn't too found of it and didn't want there to be so much commercial exploitation. As for myself, I sort of agree, but still it's hard not to buy your favorite Tintin stuff when they look so amazing. I don't have a lot though. I have a few keychains (including a wonderful plush snowey, I'll post the pic later), both anniversary Swatches, the 10 Euro coins, and most of the calendars from 2001 (wall-sized and agendas). I specially like the calendars for the art, the best is a special edition 2001 giant calendar and all the images from it are from "Explorers on the Moon".
Of course I've also got all the books in English and Persian, and a lot of newspaper clippings related to Tintin.
Anyway, I don't think many people can beat this guy's collection though, check it out, it's amazing.
July 9, 2004 12:23 AM | « Previous | Main | Next »
Tintinesque:
The First Tintin Blog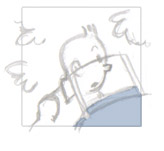 Linkdump

Worthwile Links


Pachacamac is really Inca!
Tintin & Citroen!
Tintin Spoofs
Original "Castafiore" cover sketch
deleted "Cigars ..." scenes
See one page of every album
More Tintin Movie News
Tintin Movie News
In Pictures, Tintin Exhibition
[Archives]



Features

Feature Articles


www.tintin.qc.ca
Tintin and Citroen
Do-it-Yourself Garage Door
New Section: Features
[Archives]







Also Read

Recent Entries


Herge Auction
Aurora/Boreas
Missing page from the Picaros (English)
No, this is not from the new Spielberg movie!
Merry Christmas!




On The Web

Tintin Sites










The work of Herg頩s protected by author?s right. No use of it can be done without prior and written authorisation of
Moulinsart