New Section: Features
Welcome to the Features section of Tintinesque. Here I will post the more in-depth articles and essays, to distinguish them from the regular daily blog updates. You can access the Features from the side-bar. And, as always, you can send in your articles to webmast at tintinesque dot com.
Tintinesque:
The First Tintin Blog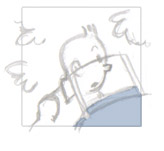 Linkdump
Worthwile Links
Pachacamac is really Inca!
Tintin & Citroen!
Tintin Spoofs
Original "Castafiore" cover sketch
deleted "Cigars ..." scenes
See one page of every album
More Tintin Movie News
Tintin Movie News
In Pictures, Tintin Exhibition
[Archives]
Features
Feature Articles
www.tintin.qc.ca
Tintin and Citroen
Do-it-Yourself Garage Door
New Section: Features
[Archives]
Also Read
Recent Entries
www.tintin.qc.ca
Tintin and Citroen
Do-it-Yourself Garage Door
New Section: Features
On The Web
Tintin Sites
The work of Herg頩s protected by author?s right. No use of it can be done without prior and written authorisation of
Moulinsart