Real life Tintin?
This is sort of bizarre, but apparently there is a TV personality in Philippines who'se name is Tintin ! And apparently she is really famous.
A lot of times when I search for Tintin on the web I come across articles about her. Her name is Tintin Bersola, and there's a lot of news articles out there about her recent marriage to a fellow called Julius Babao. Hmmm, Tintin and Julius !
How can a girl be named Tintin? Anyway, I didn't really bother to read all the articles and try to discover whether the inspiration came from Herge's Tintin or somewhere else.
If anyone knows, do enlighten us.
July 21, 2004 07:12 AM | « Previous | Main | Next »
Tintinesque:
The First Tintin Blog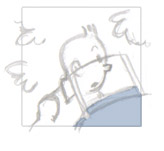 Linkdump

Worthwile Links


Pachacamac is really Inca!
Tintin & Citroen!
Tintin Spoofs
Original "Castafiore" cover sketch
deleted "Cigars ..." scenes
See one page of every album
More Tintin Movie News
Tintin Movie News
In Pictures, Tintin Exhibition
[Archives]



Features

Feature Articles


www.tintin.qc.ca
Tintin and Citroen
Do-it-Yourself Garage Door
New Section: Features
[Archives]







Also Read

Recent Entries


Herge Auction
Aurora/Boreas
Missing page from the Picaros (English)
No, this is not from the new Spielberg movie!
Merry Christmas!




On The Web

Tintin Sites










The work of Herg頩s protected by author?s right. No use of it can be done without prior and written authorisation of
Moulinsart