Tintin and censorship in America
Well, I have already discussed the censorhip of Tintin albums in Iran, but as many of you know, the Americans too asked Hergé ´o "modify" a lot of the books before publishing them.
Among many changes, they asked him to replace black people with white people. For instance, they didn't like a black person beating the captain (who is white) and enjoying it! So they asked Hergé ´o change him, and the result is a middle-eastern looking guy now!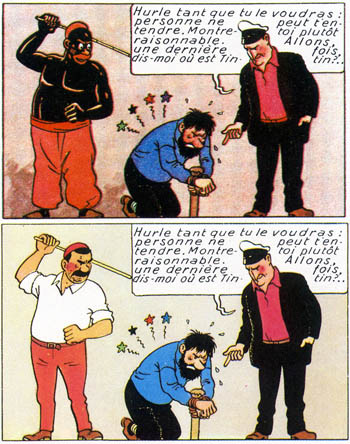 ? Herg鯍oulinsart 2004 Image courtesy of
Lester
Another more ridiculous example is the following sequence, where they asked Herge to remove the panel which actually shows the Captain drinking!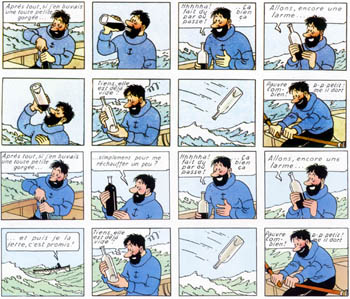 ? Herg鯍oulinsart 2004 Image courtesy of
Lester
Equally ridiculous as the Iranians I guess, but at least they did it when Hergé ·as still alive and asked him to make the changes himself, the Iranians are doing it on their own, even without permission from Casterman or Moulinsart.
By the way, I've always thought Hergé ·as too lenient when it came down to this stuff and did whatever the publishers asked him to do, I think he should have stood his ground more firmly, at least in some instances.
July 19, 2004 06:02 PM | « Previous | Main | Next »
Tintinesque:
The First Tintin Blog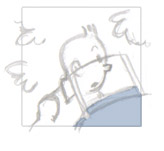 Linkdump

Worthwile Links


Pachacamac is really Inca!
Tintin & Citroen!
Tintin Spoofs
Original "Castafiore" cover sketch
deleted "Cigars ..." scenes
See one page of every album
More Tintin Movie News
Tintin Movie News
In Pictures, Tintin Exhibition
[Archives]



Features

Feature Articles


www.tintin.qc.ca
Tintin and Citroen
Do-it-Yourself Garage Door
New Section: Features
[Archives]







Also Read

Recent Entries


Herge Auction
Aurora/Boreas
Missing page from the Picaros (English)
No, this is not from the new Spielberg movie!
Merry Christmas!




On The Web

Tintin Sites










The work of Hergé ©s protected by author?s right. No use of it can be done without prior and written authorisation of
Moulinsart